Urban Gardening - 2011
I
have been growing vegetables in my backyard for a number of years but this was the first for which I've kept written notes and taken photographs to keep a record of the progress, successes and failures. I live in the suburbs and have access to a small patch of arable land, roughly 100 ft
2
, partially shaded; soil is mainly clay loam. That doesn't seem like a lot of space to work with, but with some planning, you can grow a lot of produce, enough to supply a family of three with fresh veggies for the summer months, and perhaps even into the winter months. I grow organically; regularly fertilizing the soil with compost that I get for free from a waste depot near my house. This year, I grew tomatoes, Thai chili peppers, lettuce, spinach, herbs, Asian fuzzy melons and garlic.
Starting seeds indoors Pt.1
I think I was pretty excited about the prospect of growing stuff in the summer and started shopping for seeds back in February. I ordered some seeds from
OSC Seeds
: a few packs of heirloom tomato seeds and a pack of sweet marjoram. The tomato seeds were started indoors in mid April, approximately 6 weeks before the last frost date here (Toronto). These were started in regular potting soil, kept warm by the window sill, and moist by a sheet of plastic wrap. They turned out great, but when I transplanted them outdoors in May (after the frost date), they were destroyed by a few days of cold weather and rain, which was abnormal for this time of the year. A freakish hailstorm also did not help...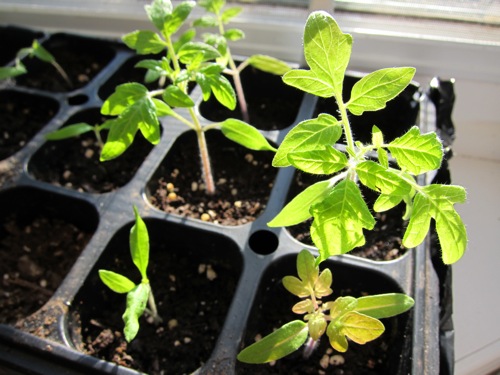 Starting seeds indoors Pt. 2
Slightly disheartened by the initial failure, I started a second batch of seeds. These were transplanted outside in early June. At this time, the weather has warmed up nicely and the seedlings were doing well. Failure is OK! Don't give up and keep trying!
Tomato blossom end rot sucks
A few weeks into the growing season, I noticed that some of my tomatoes had brown, decaying areas at the bottom end of the fruit. I'd initially thought it was caused by excess moisture (a lot of rain...) but as I started losing more tomatoes, I googled the symptoms and discovered it was a common problem caused by calcium deficiency in the soil. I am going to try adding some agricultural lime to the soil in the fall and hope it fixes things. Adding crushed egg shells also help, or so I have heard.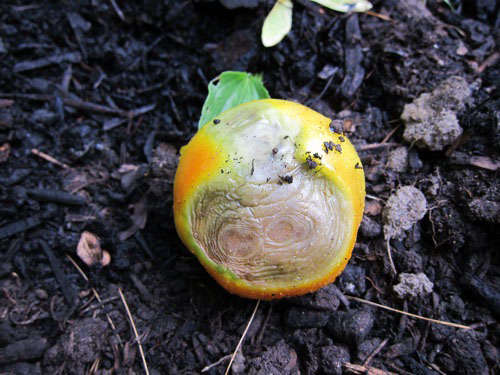 Heirloom tomatoes rock
I grew four varieties of heirloom tomatoes: Aunt Ruby's German Green (a green tomato), Cherokee purple (has beautiful purple marbled flesh), German Yellow, and Brandywine. Of those, my favorite was the Cherokee purple; so sweet and flavorful, it's like taking a bite into sunshine!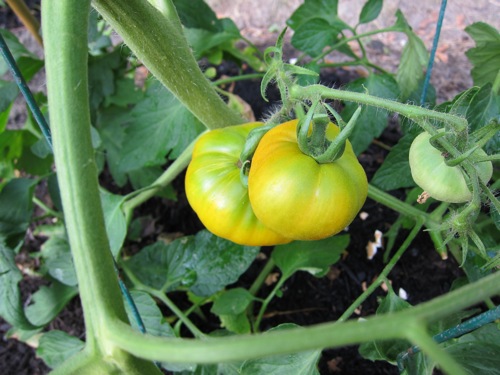 Tomatoes at 8 weeks

Aunt Ruby's Yellow cherry tomatoes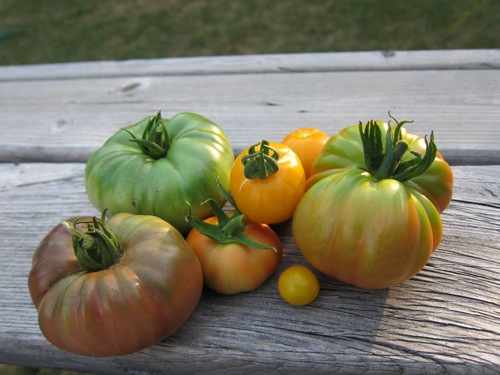 At 10 weeks. Cherokee Purple, Aunt Ruby's German Green, German Yellow, Brandywine
Winter (fuzzy) Melons
We've been growing Asian winter melons (aka fuzzy melons) for a number of years. When ripe, these melons have a hard, tough, fuzzy, white skin, and when properly stored, can be kept for up to a year, much like a winter squash or pumpkin. When combined with pork bones, the melon makes a nice summer soup. It can also be used in stews, in place of squash.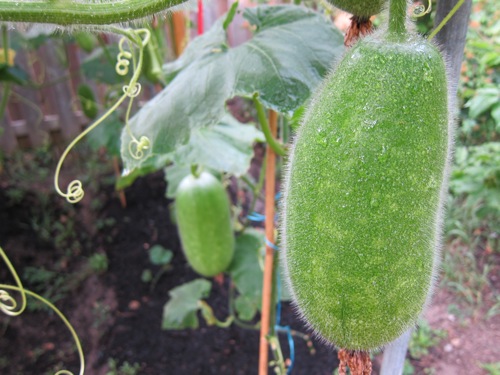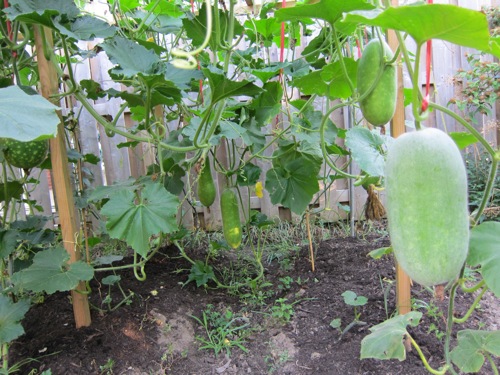 Mmm...Garlic
I went to the Stratford Garlic Festival last Fall and bought a few pounds of garlic. It was a purple, hard-neck variety , very flavorful yet less harsh than what you would find at your local supergrocer. Ate about half of it and planted the rest (about 50 bulbs). Never grew garlic before so this was new to me. I buried them about 5 inches deep, 4 inches apart. They sprouted soon after the snow had melted. It's really easy to grow and they don't really need much care so I would recommend growing your own garlic if it's a staple in your diet. Other than the bulbs, the flowering stalk or skape is also edible and quite tasty. I've used them in stir-frys and they add a nice crunch. The garlic bulbs were harvested in mid-July and were cured for a couple of weeks outdoors, under the shade of a tree.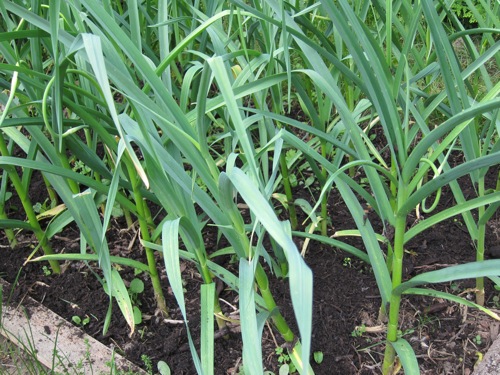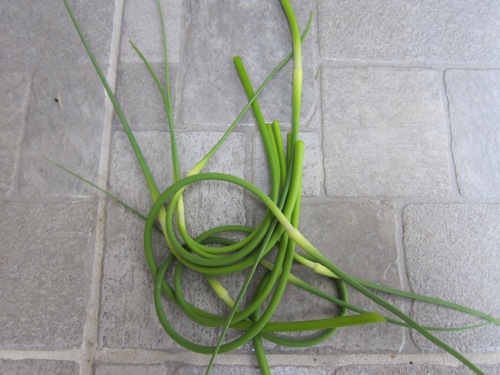 Garlic skapes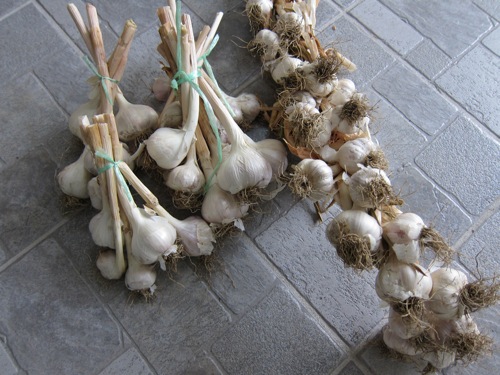 Garlic, cured and braided!