Arduino Intrusion Detection System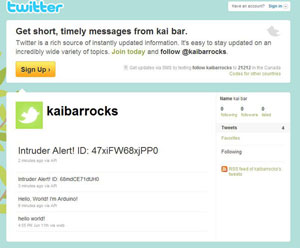 E
ver wondered if people have been snooping around your room/house while you were out? This
Arduino
intrusion detection system will detect people entering your space and log it to
Twitter
. The PIR motion sensor has a range of about 5 feet and is tripped by the presence of body heat.
Parts:
1 Arduino micro-controller

1 Arduino Ethernet shield

1 PIR motion sensor

1 solderless bread-board (for prototyping)

Jumper wires (for prototyping)

1 10K resistor

1 LED (optional)

1 Resistor for LED (optional)
A Twitter account and the Arduino Twitter library, or write your own :)


The prototype - Arduino with the Ethernet shield and PIR sensor. LED blinks when motion is detected. Also sends out a tweet. The choice of colors for the wires on the PIR is a bit confusing. The brown wire actually goes to ground, the black wire is the alarm pin. When the PIR sensor is inactive (open), the analog pin registers a value of ~ 900 on the Arduino. When it detects motion, the value is ~ 17.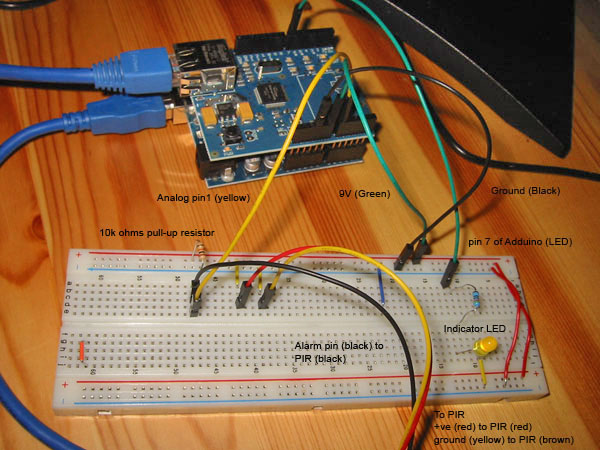 Code

#include <Ethernet.h>
#include <Twitter.h>

byte mac[] = {
 0xDE, 0xAD, 0xBE, 0xEF, 0xFE, 0xED };
byte ip[] = {
 192,168 , 0, 10 };
byte gateway[] = {
 192, 168, 0, 1 };
byte subnet[] = {
 255, 255, 255, 0 };

Twitter twitter("username:password"); //your Twitter username/password

char msg[32] ="Intruder Alert! ID: ";
//maps to the lowercase letters in ASCII
int lowerMin = 97;
int lowerMax = 122;

//PIR
int alarmPin = 0;
int alarmValue = 0;

int ledPin = 7;
int timer = 500;

void setup()
{ 
 Ethernet.begin(mac, ip, gateway, subnet);
 randomSeed(millis());
 Serial.begin(9600);
 pinMode(ledPin, OUTPUT);
 pinMode(alarmPin, INPUT);

 digitalWrite(ledPin, LOW);
   
 delay(1000);   

 Serial.println("connecting ...");

}

void loop()
{
 //read PIR

 alarmValue = analogRead(alarmPin);
 Serial.println (alarmValue);

 if (alarmValue < 100){
   generateID();
   twitter.post(msg);
   Serial.println(msg);
   blink();

 } 
 delay(timer);
}

//generate some pseudo random ID
void generateID()
{
 for (i=20; i<=31; i++)
 {
   msg[i] = random(lowerMin, lowerMax);
 }
}

void blink() {
 for(int i=0; i<3; i++) {
   digitalWrite(ledPin,HIGH);
   delay(200);
   digitalWrite(ledPin,LOW);
   delay(200);
 }
}